A new month is before us. As we hope all enjoy a scene from where we have the privilege to call home, Orange County, California, we present a weekly curation of the week that was as the Vision to Transform our World is ever so:
In Europe, Secretary Walsh highlights worker empowerment and labor dynamics
In Europe this week, Secretary of Labor Marty Walsh met with government and business leaders at the 2023 World Economic Forum, visited a job training center in Zurich and learned more about apprenticeship programs in Austria.
The Dutch cycling obsession reached new heights with the opening of Amsterdam's new bike garage — located entirely underwater. The $65 million structure, which opens Wednesday and can store up to 7,000 bicycles, is part of a wider revamp of the busy area in front of the city's central train station. Since 2017, that space has been taken from cars and given to pedestrians and bikes, while some roads have been cleared to allow more room for the harbor.
By making it easier to store bikes securely underground, the city can encourage cycling and keep parked two-wheelers from overcrowding streets, writes Feargus O'Sullivan. So while the effort and money poured into this latest facility may seem like an impossible luxury for most cities, they're sound infrastructure investments for bike-friendly Amsterdam. Today on CityLab: Amsterdam's Underwater Bike Garage Is Next-Level Cycling Infrastructure
— Sri Taylor

Microsoft will lay off approximately 10,000 employees through March 31, the software maker announced today. The cuts will affect 4.5% of Microsoft's total workforce of 220,000. In a statement, CEO Satya Nadella said customers upped their digital spending during the pandemic but are now optimizing their expenses "to do more with less."
More:
While the layoffs are expected to occur across all units and geographies, Microsoft's sales and marketing teams will be affected more than engineering roles, a spokesperson said.

Microsoft will begin notifying some employees immediately, and all of the cuts will take place before the end of its fiscal Q3 on March 31.

The company said the layoffs will result in a $1.2B charge for severance payments and other costs.
Zoom Out:
Microsoft said it will continue to hire this year for certain strategic roles, though Nadella didn't specify what those might be.

He said the world is experiencing the "next major wave of computing" through AI advancements. Microsoft, in particular, has focused heavily on AI through its investment and support of OpenAI, the creator of ChatGPT and other similar technologies.

Earlier this week, Nadella said the company plans to incorporate AI capabilities into "every product."
Microsoft last laid off fewer than 1,000 employees in October.
CNN
---
Apple announced its second-generation HomePod smart speaker ($299) after the first was discontinued in 2021. The original ($349) was replaced by the smaller and more affordable HomePod mini, which starts at $99.
More:
The new HomePod has a similar form factor as its predecessor but upgraded capabilities and smart home features.

It's powered by an upgraded S7 chip, the same as in the Apple Watch Series 7.

The latest iteration contains "room-sensing technology" to alter its sound profile based on surroundings. It also adds support for the Matter smart home standard and can serve as a home hub for Apple's HomeKit smart home system.

Compared to the OG model, the HomePod has five microphones, down from seven, and a four-inch woofer and five tweeters, also down from seven.

It supports spatial audio via Dolby Atmos as well as stereo pairing with other HomePods.

Pre-orders start today. The HomePod will be available in stores and start shipping on Feb. 3.
THE WALL STREET JOURNAL
---
A MESSAGE FROM ONE SCHEMA
OneSchema is the embeddable CSV Importer for SaaS
Product and engineering teams use OneSchema to save months of development time building a CSV importer. With a large library of prebuilt validations and robust SDKs, OneSchema only takes 30 minutes to get running in your app.
OneSchema turns CSV import from a headache into a breeze:
Low effort: Launch CSV import in hours, not quarters
Customizable: Configure to match your brand & workflow
Converts: Increase data onboarding completion rates to 90%+
Delightful: Resolve errors in your import, without leaving your product
Cost-effective: 70-80% cheaper than building a CSV importer in-house
With features like intelligent mapping and data correction, importing clean customer data into your product is easier than ever. Say goodbye to the "import error on line 53" and endless email chains with your support team.
OneSchema is used by top startups like Scale AI and Pave to streamline CSV import.
---
Discord is acquiring the teen social media app Gas, known for its community polls and positive affirmations. Gas, founded by former Meta Platforms product manager Nikita Bier, will continue on as a standalone app. The deal marks Discord's expansion beyond social networking primarily for gaming.
More:
Gas launched in August 2022 and reached the top spot on the Apple App Store in October.

By December, the app has surpassed 10 million downloads and $6M in sales, according to Bier.
The former Meta employee also co-created tbh, a social networking app similar to Gas that was acquired and later shut down by Facebook in 2018.

The financial terms of the new acquisition weren't disclosed. Gas's team will join Discord, which says it could integrate some of the former's technology into its servers.
TECHCRUNCH
---
TikTok is bringing its labels for state-linked media outlets to more markets, including the U.S., Canada, and China. The labels identify accounts on the platform that are run by groups whose stories or decision-making processes are "subject to control or influence by a government," TikTok said. The tags will signify Chinese state-run media outlets, a spokesperson confirmed.
More:
TikTok first rolled out a pilot program for the labels in March 2022, shortly after Russia's invasion of Ukraine. However, the test only applied to accounts in Russia, Ukraine, and Belarus.

Now, the company said it has formalized the policy and will immediately begin rolling out the tags to over 40 markets.

To decide which accounts get the label, TikTok said it will weigh criteria such as coverage, funding, journalistic conduct, and editorial independence.

Outlets will be able to appeal a designation if they believe it's unwarranted.

YouTube, Meta, and Twitter all adopted similar tags in 2020 or earlier.
THE VERGE
---
A MESSAGE FROM LACEWORK
Lacework Labs Cloud Threat Report, Vol. 4
In the latest installment of the Cloud Threat Report series, Lacework Labs covers the significant increase in efficiencies used by cybercriminals.
Get insights into these trends that cover how:
Attackers are automating key discovery and exploits, taking advantage of momentary mistakes

Simple mistakes turn into misconfigurations that attackers use to compromise your cloud identity infrastructure

Vulnerabilities continue to stick around for months (sometimes even years) and attackers quickly exploit any new vulnerabilities

Cryptojacking continues to be a staple in cybercriminal tool belts
Discover detailed intelligence about ongoing infrastructure compromise activities and best practices for hardening your cloud security posture.
Read the Lacework Labs Cloud Threat Report, Vol. 4 today.
---
Twitter announced a new annual plan for its paid subscription service, which includes the blue check mark for verification. The update comes as Elon Musk continues to seek more revenue sources for Twitter. According to the Financial Times, Musk's first interest payment on the $13B in debt he took to finance the $44B acquisition could be due as early as this month.
More:
As of today, Twitter is offering a yearly subscription price of $84, a discount on its $8 monthly subscription or $11 a month for iOS users.

Twitter said the annual subscription is only available through the web in select countries including the U.S., Canada, U.K., Japan, Australia, and New Zealand.

In addition to the verified check mark, the plan includes fewer ads, early access to the edit tweet capability, custom app icons, and other features.
REUTERS
---
Apple has postponed the development of its augmented-reality glasses due to technical challenges, according to Bloomberg's Mark Gurman. The lightweight AR glasses are a separate product from Apple's upcoming mixed-reality headset, which is due out this fall.
More:
Apple reportedly planned to release the AR glasses, which overlay digital information onto the wearer's view of the real world, in 2025.

However, the glasses are now on hold indefinitely after the company reportedly faced challenges in developing the needed hardware, sources familiar with the decision told Gurman.

Instead, Apple will focus on developing a more affordable version of its mixed-reality headset. This version, expected to cost around $1,500, could launch in 2024 or early 2025, according to Gurman.

The version of the XR headset due out this year is expected to cost roughly $3,000, putting it out of the price range for many consumers.
Gurman believes AR glasses remain a long-term goal for Apple and could one day replace the iPhone.
BLOOMBERG
---
QUICK HITS
The clean tech arms race has begun. Can it save the planet?
It has dominated the headlines out of Davos this week, prompted diplomatic grumblings from Germany and put European lawmakers in a bind. Passed last year, a historic US climate bill has opened up a new era in geopolitics, one of unprecedented global competition to develop planet-saving technologies.

The US ranks top when it comes to the cumulative greenhouse gases added to the atmosphere since the industrial revolution, but remains behind in reducing its reliance on the fossil fuels that are heating up the planet. Despite its name, President Joe Biden's Inflation Reduction Act, which became law last summer, is aimed at rapidly changing that status as laggard.

The size of the US economy and the unprecedented scale of the subsidies the IRA offers to develop green industries are, however, forcing European lawmakers to respond as businesses warn that the continent could lose investments.

As the US numbers have sunk in, officials from European Commission President Ursula von der Leyen to the leaders of France and Germany have called for Europe-wide and country-specific industrial bills aimed at matching the incentives being dangled by their greatest ally.
"To keep European industry attractive, there is a need to be competitive with offers and incentives," von der Leyen said in a speech at Davos. "We must also step up EU funding."
Ursula von der Leyen. Photographer: Stefan Wermuth/Bloomberg
The developments have created a marked shift in climate geopolitics, a realm in which Europeans had long held the crown as leaders in environmental action and regulation. While discussions at the United Nations annual COP meetings continue to require all countries to collaborate on global strategies, targets and financing, US investments in climate technologies are forcing global powers to compete when it comes to devising and scaling solutions aimed at tempering humanity's impact on the Earth.
"We're on the cusp of a clean tech arms race," said David Victor, professor of innovation and public policy at the University of California San Diego.

Sometimes an arms race can be a zero-sum game, where US investments mean Europe loses out, but it doesn't have to be so. If the US and Europe can work together to allow their industries access to each other's markets, Victor said, then investments made in technologies will be able to deliver greater good. That kind of cooperation is in Europe's interests.
Though it's a late entrant, the US already has the advantage when it comes to climate tech. The US is a bigger market with more regulatory consistency and offers fewer barriers to entry and scaling new industries — as well as more funding opportunities. The European Union, on the other hand, is made up of 27 independent countries.
"The European market is fragmented," said Hans Kobler, founder and managing partner of Energy Impact Partners, a venture capital fund that invests in clean-energy startups. That's why "there's a big sucking sound for global climate technologies coming to the US."
Even as the US and the EU figure out how to manage this new competition, they both share a bigger rival in China. On almost every green technology, China has the lead. It is the world's largest maker of solar panels, batteries, electric cars and even hydrogen-producing electrolyzers.

The incentives contained in the IRA are designed to minimize China's role in the clean tech pipeline and try to break its hold, for instance, on the electric vehicle battery supply chain.
For emerging players in climate tech industries that also want to become export powerhouses — like India — there are other challenges on the horizon.

"I am worried about islands of regulation," said Arunabha Ghosh, chief executive officer of the Indian think tank Council on Energy, Environment and Water. If each region has incentives for green technologies tied to its own standards, companies will struggle to scale quickly, he said.
LISTEN: How Climate Change Broke Through to the World's Elite in Davos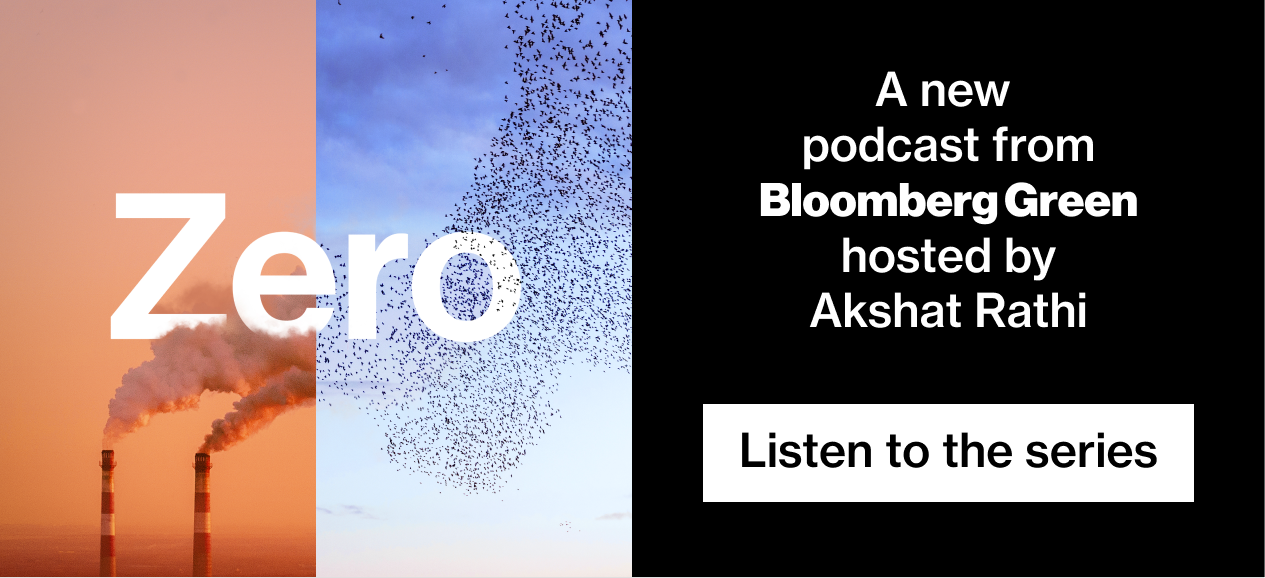 As climate solutions attract larger sums of money, touch ever expanding areas of the world economy and lure more and more people, they're bound to create friction among major powers. What's clear is that most of those powers see a big opportunity. That's why, despite the challenges that an era of competition will bring, the rich and powerful at the Davos meeting welcomed increased investment in a green future.
"Having a competition to drive things faster, and bigger scale is not a bad thing," Jennifer Morgan, Germany's climate envoy, said in an interview at the World Economic Forum in Davos this week. "It's kind of like: Game On."
Akshat Rathi writes the Zero newsletter, which examines the world's race to cut emissions. You can email him with feedback.
Going big on green
$374 billion
That's how much the Congressional Budget Office expects the US government to spend in the next decade through IRA policies. Experts say it will be a lot more.
Attracting investment
"IRA has changed the dynamics for suppliers, the entire value chain is looking at North America instead of at Europe."
Jesper Wigardt
A spokesman for Northvolt
Discussing why the Swedish battery-maker may postpone plans to build a factory in Germany and prioritize US expansion instead.
The week in climate: Notes from Davos
German Chancellor Olaf Scholz said he's convinced that a trade war can be avoided between the European Union and the US over a recent package of green subsidies introduced by the Biden administration. Some of Washington's allies have been angered by Biden's climate-friendly tax law, even though it's dedicated to boosting green tech and promoting a carbon-neutral future. Scholz struck a conciliatory tone in an interview with Bloomberg News Editor-in-Chief John Micklethwait Tuesday.
Olaf Scholz, Germany's chancellor, at the World Economic Forum in Davos, Switzerland. Photographer: Stefan Wermuth/Bloomberg

Green reads you may have missed
Dust tends to get a bad rap: It's been known to turn skies orange in Europe, and routinely chokes millions with air pollution. But all that dust has an unexpected positive impact, too: It is helping keep the planet just a little bit cooler. Global temperatures are currently around 2.2°F (1.2°C) higher than 1850 levels, and heading toward 2.7°F of warming, which scientists consider catastrophic. But that 2.2° increase would be roughly 0.1°F higher were it not for an increase in global atmospheric dust, according to a peer-reviewed study published this week in Nature Reviews Earth and Environment.
Photographer: Asim Hafeez/Bloomberg
SHOW ALL STARTUPS FROM LAST WEEK
Buildings as Solar Generators? Heliatek Creates Ultrathin Panels to Harness the Sun's Power
Turning buildings into solar-powered generators is the challenge, but researchers and companies are now on the verge of creating new panels that could change the way it stands out in the area. A German company called Heliatek has developed new ultrathin and organic solar panels that could be applied to high-rise structures to become more self-sufficient and eco-friendly.