We present the following courtesy to the team at the Information, Bloomberg, and Futureloop about the week that was:
Microsoft Researchers Propose to Combine ChatGPT and 15 Other AI Models
According to recent reports, Microsoft researchers have proposed to combine chatbot technology with other AI models in order to create what they are calling a "universal assistant." The hope is that this assistant will be able to handle a range of tasks, including but not limited to tasks that require natural language processing, image recognition, and even multi-step processes.

Selected By Virtual Peter

Soft Robotic Wearable Restores Arm Function for People with ALS
Some 30,000 people in the U.S. are affected by amyotrophic lateral sclerosis (ALS), also known as Lou Gehrig's disease, a neurodegenerative condition that damages cells in the brain and spinal cord necessary for movement.

Selected By Virtual Peter

How generative AI could cut health care costs, develop new cancer drugs
Drug development firm Absci says they may be able to develop a new drug for cancer using up-to-date AI technology models while also lowering the costs of drugs. They wrote that their AI model was asked to create antibodies against the oncogene HER2, which has been connected to certain breast cancers.

Starfish Space raises $14M to advance development of satellite servicing vehicles
Starfish Space, a Seattle-area startup founded by two veterans of Jeff Bezos' Blue Origin space venture, has raised $14 million in funding to support its plans to develop spacecraft capable of hooking up with bigger satellites to boost their orbits — or safely dispose of them.

A robot that can autonomously explore real-world environments
Roboticists have developed many advanced systems over the past decade or so, yet most of these systems still require some degree of human supervision. Ideally, future robots should explore unknown environments autonomously and independently, continuously collecting data and learning from this data.

Revolutionizing Healthcare with Galeon: The First Medical AI Blockchain
Artificial Intelligence has become an integral part of our lives, and its use in various sectors is becoming increasingly widespread. In recent weeks, we've heard most about chatGPT and Google Bard, these "generative" AI tools, which as the name suggests, are AIs capable of generating content.

Rejuvenating stem cells could slow Duchenne muscular dystrophy
Researchers have linked Duchenne muscular dystrophy (DMD) to a loss of regenerative capacity of muscle stem cells. The findings, which were published in the March 1, 2023, issue of Science Translational Medicine, suggest that boosting the regenerative capacity of muscle stem cells could delay or perhaps even prevent the progression of DMD. DMD is "an early and horrible disease," senior author Frederic Relaix, who is the director of a research team studying the biology of the neuromuscular system at the Mondor Institute for Biomedical Research told BioWorld.

Tesla alums have created a futuristic $125,000 electric RV trailer that'll save your EV's range during road trips
This design, as well as its electric drivetrain that takes the load off of the towing vehicle, then drops the range loss down to nearly zero, according to the team.

Alphabet's Wing Teases Autonomous Drone Delivery Network
Alphabet's Wing drone delivery business is upping the ante with a new network of linked aircraft capable of picking up, dropping off, and recharging in unique patterns. This Wing Delivery Network(Opens in a new window) will roll out over the next year, allowing flying bots to collect and distribute orders from multiple stores to different customers throughout the day.

Startups Are Manufacturing Humanoid Robots to Address the Shortage of Human Workers
Many tech startups are developing and bringing to market remarkable humanoid robots as at least a partial solution for labor shortages stunting economic growth in the US and other highly developed economies.

Discord Is Bringing Its Chatbot Clyde To Life With AI
Discord is the latest company to dive into the world of AI, introducing an AI-powered chatbot, AI-driven moderation settings, conversation summaries, and more. Over on its blog, Discord revealed a selection of new features it will be introducing to the chat service. First up there's Clyde, who you've probably seen when making some mistakes in your server. As of some time next week, Clyde will be a bit more lifelike, using OpenAI to be able to answer questions and have conversations with anyone in a server. Like you, Clyde can also recommend playlists, and use GIFs and emojis.
Sunshine, heat and bitcoin will reshape electricity in Texas
No electricity grid in the US has added more renewable power over the past decade than the Texas grid has. Back in 2012, both California and the Midwest generated more power from wind, solar and other renewables than the Lone Star State. But in 2022, Texas was the winner. The future of the state's grid is a study in supply, demand and uncertainty.
One thing that is certain: Most of Texas' renewable generation today is from wind. Last year, wind projects in the Electric Reliability Council of Texas (Ercot, the grid that covers most of the state) generated more than 107,000 gigawatt-hours of electricity; solar generated 24,000, less than a quarter of what wind produced. But solar is growing rapidly, and generating most during the hottest months, when the grid is under the greatest strain to meet high demand.
Less certain, but still likely: Ercot expects only a slight expansion of the wind power fleet between now and 2025 while solar is expected to surge. Solar capacity could double from 2023 to 2025, if all projects with an interconnection agreement reach completion.

Still less certain: the weather. Texas had a punishingly hot summer last year. There were 61 days from the start of May to the end of September that were the hottest in the past five years. The grid set repeated peak demand records in the summer months of 2022, forcing Ercot to issue a so-called conservation appeal on July 11 and 13. Another very hot summer could push electricity demand up even further in 2023.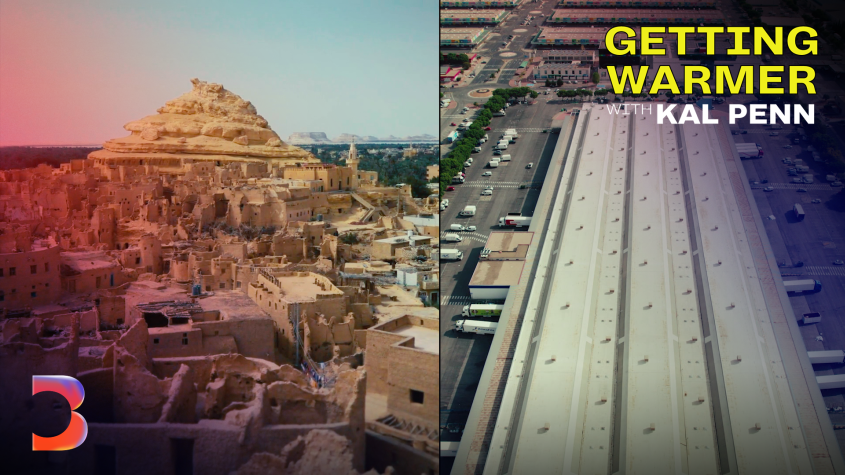 Research group BNEF also reached another important finding about last summer: Demand was higher than what record temperatures alone would suggest. There were other factors contributing to it — in particular, Bitcoin mining.
Bitcoin mines use electricity in such a quantity, and with such consistency, that we can express that in terms of electricity demand. Today there are 1.8 gigawatts of Bitcoin mines operating in Ercot, and BNEF tracks 10 gigawatts of potential projects. Not all of those will come online this year or next, but in BNEF's base-case scenario, there will be 5.3 gigawatts of total demand from Bitcoin mining this year, and 5.9 gigawatts' worth in 2024.
Last year's question about all those new miners was, "Will they crash the grid?" Ask the miners themselves and they will say they're helping the grid because their load is "interruptible" — that is, it can turn on and off depending on demand. Some of the miners have registered as a "controllable load resource" that can respond to electricity system signals instead of just running flat-out. The state has also established an interim program that pays Bitcoin mines to reduce their peak power.
The answer is as complex as the question, but it hinges on an important idea: Bitcoin mines will only operate when the economics are favorable to do so. So if temperatures are lower than last year, and wind and solar generation is higher, power prices could be relatively lower and then miners might operate even during peak demand. But if there is less wind and solar, or higher temperatures, then Bitcoin mining might switch off due to higher power prices, keeping total demand lower.
This week on Zero, Bloomberg Green's Akshat Rathi talks to Katie Rae, CEO of The Engine, an MIT-affiliated fund in Boston that invests in climate tech startups often led by scientists and engineers. Listen now to find out why she thinks that's a better model than that of conventional entrepreneurs. Subscribe to Zero on Apple, Spotify or Google to get new episodes every Thursday.
And with Bitcoin running consistently during off-peak periods, prices could be higher at times when they historically have been lower, such as at 11 p.m., when there is no solar to offset Bitcoin.
One likely outcome for the Texas grid — factoring in renewables, weather and Bitcoin — is a significant change in "net load" profile. In the past, low wind speeds in the late afternoon meant that power was scarce during the hottest times of day and months of the year. Now with solar generating significantly at that time of day, the grid's net load (the amount it requires after renewable generation) is falling. Not only that, the peak net load will likely shift to evening hours.
But there is another possibility too — the bear case. With lower temperatures, ample solar and less Bitcoin mining, Texas peak power demand might be little different than it was in 2022. In that event, the net load tops out at 62 gigawatts, almost 12% lower than in it was in 2018.
Rules govern markets, but uncertainties shape them. The one thing that is certain about the Texas power market? It is the US market to watch, a new postcard from the future of US electricity.
OpenAI Rival Anthropic Raises Funding at $4.1 Billion Valuation
Spark Capital is leading a $300 million investment in artificial intelligence startup Anthropic, one of the primary startup challengers to OpenAI, at a pre-investment valuation of $4.1 billion, according to two people familiar with the matter. The deal follows a $400 million investment in the startup by Google, one of the people said.
The valuation for the two-year-old company, which has made very little revenue, reflects the recent fervor in venture capital for stakes in generative AI companies fueled by the rise of OpenAI, the maker of chatbot ChatGPT. At the same time, bigger companies like Google and Microsoft are investing in AI startups either to gain access to cutting-edge technology or secure future customers of their cloud-server rental businesses.
One of Crypto's Last Safe Havens Is Spiraling After Silicon Valley Bank Implosion
By Aidan Ryan and Akash Pasricha
Silicon Valley Bank's collapse is sending shockwaves through a key piece of the crypto industry's financial plumbing.
The price of stablecoin USDC tumbled at one point lower than 88 cents Saturday morning, below its theoretical $1 peg, after its issuer, Circle, disclosed it has billions in cash on deposit at failed Silicon Valley Bank. While Circle has money on deposit with several other banks, the revelation raised questions about its ability to meet redemptions.
The situation has unnerved investors because stablecoins serve as the money-market funds of the crypto world, acting as a safe haven for traders with funds that need to be parked for a while. In that sense, USDC's price fall is akin to a money market fund sharply losing value. Adding to the uncertainty, big crypto exchanges Coinbase and Binance have stopped customers from cashing out of USDC through at least the weekend, so the big question is what happens come Monday.
Silicon Valley Bank failed on Friday after it couldn't find a buyer, with the Federal Deposit Insurance Corp. taking over its assets and liabilities, sending shivers through the startup world.
The failure came after a tense period during which many of SVB's customers fled as the bank frantically tried to raise capital to remain solvent, but failed. Bankers tried to orchestrate a potential sale of SVB, according to a person familiar with the matter, though it was a longshot for a suitor to emerge to buy a troubled institution whose shareholders and customers were heading for the exits. The process quickly unraveled.
SVB's failure leaves many questions across Silicon Valley unanswered, ranging from what happens at startups who banked with SVB to what bank or banks might pick up the pieces. "How do I cover payroll?" one startup founder asked an FDIC representative outside an SVB branch in Palo Alto.
Read Now